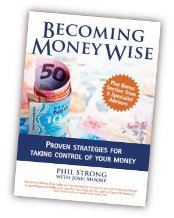 Financial literacy is at the root of most family challenges; stress over money issues is one of the leading causes of relationship break-down (and break-up!). Our young adults are growing up, earning money and yet have no idea how to get ahead on the financial treadmill they find themselves on – money in, money out and nothing left over. In these tough economic times those nearing retirement are majorly concerned about their ability to survive financially in both the long and short term. And where are our children, the next generation, learning their financial skills from?
All of these money issues are a result of what Phil Strong calls "unhealthy financial habits". Many people, he says, have cancer of the wallet which is the cause of their financial sickness which is the cause of their financial ruin. The answer? Phil says the first step is to take control of what you have, and then you can begin to build a solid future.
While there are other great books on finance and investment, Phil believes there are fundamental issues to be addressed that are critical to financial survival and success. Many people cry "budgets don't work!" and so Phil will show you why that may have been the case in the past, but most importantly he will show you where to start so you can ensure that budgets do work.
This book is all about your financial head-space first, taking control of your money and financial habits second, then getting clear of debts third, all in order to have the great lifestyle you desire. Aimed at readers of all ages and stages, Phil has the ability to communicate key messages that help build financial foundations, allow couples to talk about money with minimal fighting, and create positive and healthy financial habits. This book is exceptionally useful for anyone of any age who has never mastered their credit card, mortgage or ability to save and pay cash for things they want.
Becoming Money Wise is based on the seminars that Phil Strong has been delivering to audiences throughout NZ since 2001. Audiences come from all corners of the community to hear and apply Phil's teaching and, as a result, Phil is often asked into schools, community groups, churches and businesses to speak on money and life topics.
Readers of this book are supported by free gifts to help them on the journey to financial control and then financial success.  You can access these tools by using the password hidden in the book.